7.1 Magnitude Earthquake Hits Mexico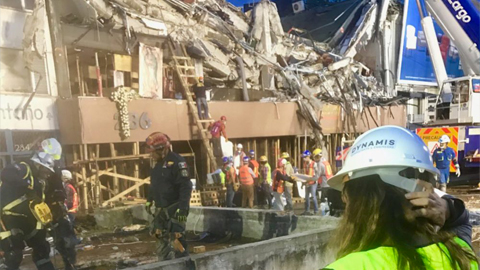 Just a little over a week after the 7.1 earthquake shook Mexico City and its neighboring towns, coincidentally on the same date as the devastating earthquake that occurred on Sept 19, 1985, Dynamis flew in to conduct a post-seismic mission.  There was word of a building that had collapsed, where rescue teams were concentrating their efforts in hopes to recover and identify missing persons that were yet to be accounted for. On the first day of reconnaissance, the team arrived to Area 0 in Alvaro Obregon to discuss with the officials and volunteers that were in the area, to get a clearer idea of what happened and to assess the damage. Alvaro Obregon 286 is located in barrio Roma of Mexico City, an area in which several other buildings also suffered damages from the last earthquake in 1985.
The building was initially a 3-story building and was extended into a 6-story building after the 1985 earthquake. It was used as an office building and hosted more than five companies. At the time of the earthquake, more than 50 people were inside the building.
After close inspection and discussions with officials and engineers on site, the team determined that the cause for the collapse can be attributed to a combination of factors: the additional weight of the concrete slabs from the floors added, and column failure due to earthquake-induced pounding between the adjacent buildings. The concrete slabs were made even heavier due to the addition of sand in the middle, creating a type of 'sandwich', and the column failure induced the progressive collapse of the building, which is known as a 'pancake collapse'. Aside from insufficient distance between structures, the main reason of collisions between adjacent buildings under earthquake excitation is the difference in stiffness and/or mass. This difference leads to the out-of-phase vibrations and finally may cause structural interactions.
It is difficult to fathom the destruction and devastation that can be caused by earthquakes, especially when it can be avoided.  We, at Dynamis, would like to offer our services to anyone in need of help- whether it's a seismic hazard analysis, assessment of pre-existing buildings, or designing new structures so that it will be earthquake-resistant.  If you live in Mexico City, our team is there, ready and waiting. Creative solutions for a safer world- that's what we're passionate about, and that's how we know we can make a difference.