Dynamis Presents at the 43rd SNE Meeting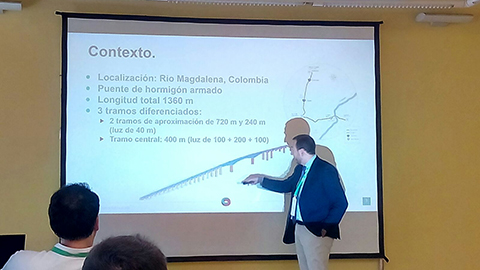 Last Wednesday October 4th, the 43rd annual meeting of the Spanish Nuclear Society (SNE) took place in the Trade Fairs and Congress Center of Malaga.  During this event, the latest innovative projects, products, and services related to nuclear energy was presented. The slogan for this year is "We Contribute to Sustainability," allowing the various companies and professionals from various sectors a unique opportunity to promote their companies as sustainable and energy-conscious. The exhibition kicked off on Wednesday with an opening introduction by Francisco de la Torre, mayor of Málaga, and lasted until Friday October 6th.
On the first day of the exhibition, Dynamis's Carlos Carames Molero presented a paper entitled, Kinematic Effects on Pile Foundations. The paper was about the importance of taking into consideration the kinematic effects when defining the surface response spectrum. When the pile foundation system is stiffer than the soil, we find differences between the free-field surface spectrum and the spectrum calculated on the pile cap surface. These effects are largely ignored, and codes do not mention how to take them into account.  In addition, the paper also discusses a new method that takes the group effects when calculating impedance functions of pile foundation systems into account.  To demonstrate the effects, Dynamis applied this method to a bridge located in the Antioquia region of Colombia; however, this method can be applicable to virtually any type of structure.
Overall, the 43rd SNE meeting exhibition was a fruitful experience, an excellent opportunity for Dynamis to connect with past and current clients.  Most of all, it was a great chance to take part in the conversation about how to remain relevant in an increasingly energy-conscious society.