Latest earthquake in Mexico.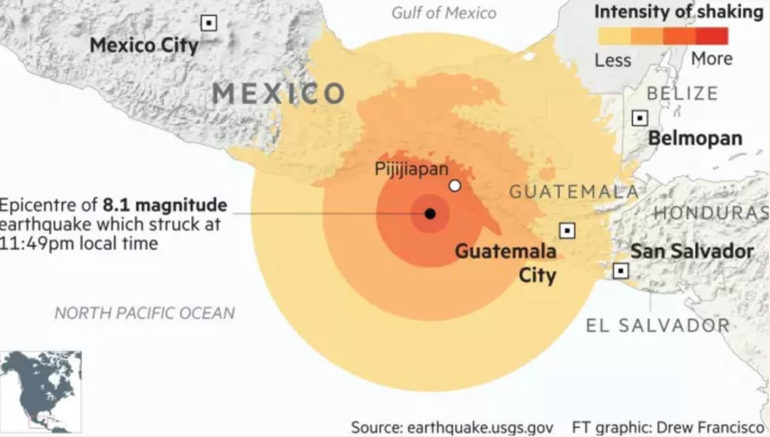 Latest earthquake in Mexico
Only a week after DYNAMIS opened its first office in Mexico, the country experienced one of the most violent earthquakes of the last century, the second strongest recorded in the country's history.
The 8.1 magnitude earthquake hit the southern coast of Mexico near Chiapas (approximately 87 kilometers south of Pijijiapan in the Gulf of Tehuantepec) on Sept 8. At least 90 people have died in the states of Chiapas, Oaxaca and Tabasco.
The earthquake was so strong that over 50M people felt it, and the shaking was felt in places as far away as the capital, Mexico City, and other neighboring countries such as Guatemala. More than 700 aftershocks were recorded until late afternoon on Saturday.
Mexico and its high seismicity
Mexico is known for having strong seismic activity due to its geographical location, being that it is located where five tectonic plates collide. The Gulf of Tehuantepec, where the last earthquake occurred, lies above the subduction area where the Cocos Plate and the North American Plate meet, turning it into one of the earthquake-prone areas in Mexico.
Causes of the earthquake
According to Vala Hjorleifsdottir, a member of the Geophysical Institute of the Autonomous University of Mexico (UNAM), this time the earthquake was caused by the internal fracture of a plate. This unusual event explains the exceptional strength of the earthquake.
The importance of seismic design for the construction of a secure structure
Earthquakes have long been known to wreak havoc and cause devastation. The earthquake in Mexico has caused several strategic facilities such as hospitals, schools, public buildings and infrastructures either to collapse or be seriously damaged.
The strong shake has also knocked out electricity, affecting more than 1.8M people. State oil company Pemex closed the Salina Cruz refinery as a precautionary measure, due to the fact that it is located in the same region as the epicenter of the earthquake. Finance Minister Jose Antonio Meade announced on Saturday the bond's coverage could reach $150M, depending on magnitude and location.
Most of the damage occurred due to poorly constructed buildings and faulty infrastructure. When designing any structure, engineers must always consider that the structure should withstand any possible natural disaster; in Mexico, for example, earthquakes are often the load that governs the design. In the case of Dynamis, we have designed the biggest windfarm in the state of Oaxaca, one of the areas most affected during the earthquake.

We are well aware that a good seismic design not only helps a building or a bridge stay resilient, but it also protects occupant life.
If you need any type of seismic assessment, please feel free to contact us:
Mexico Office
Arq. David Chacón Bueno
d.chacon@dynamisassociates.com
M: +52 1 (55) 1774 4257
Eng. Fernando Balado Barba
f.balado@dynamisassociates.com
M: +52 1 (55) 6971 6577
We are at:
Río Pánuco 108
Col. Cuauhtémoc Del. Cuauhtémoc
06500, Ciudad de México