Dynamis Attends ICEX Spain-CA Investment Summit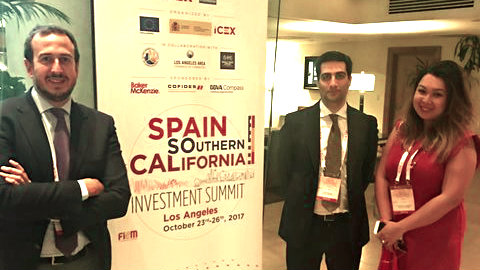 Dynamis attended the ICEX Spain Southern California Investment Summit that took place in Los Angeles from October 23-26th.  The event was hosted by ICEX España Exportación e Inversiones, a public business entity whose mission is to promote and aid Spanish companies to expand globally and develop an international presence, which as a result encourages competitiveness and job creation.
The event kicked off with several keynote speakers, most of which were native Spaniards who were key figures in both Spanish and American companies.  They talked about their experiences setting up companies in the United States, and gave advice and encouragement to the attendees.  From the president of an international engineering firm, to a president of a leading law firm with expertise in the public sector, they all focused on how to do business specifically in the Los Angeles market, emphasizing patience, perseverance and the importance of building relationships not just within the community, but also with the politicians who manage the community of LA.
In addition, several information panels took place regarding opportunities in infrastructures and transportation, renewable energies, as well as water and smart cities.  The panelists described the various major projects that are underway mostly within Los Angeles but also throughout other regions in the state of California.  Projects range from the upcoming high-speed rail system that is currently being built, to underground pipe renovations, as well as both the metro rail system expansion and airport expansion of LAX.
Lastly, Dynamis was able to meet with the various authorities in Los Angeles to explore the possible opportunities of future work synergies.  With all of the development projects taking place, it's clear that Los Angeles is undergoing a revival of sorts, making sure it continues to be an attractive place in which to live and work.  As for Dynamis, the team is excited about the possibilities in California, especially considering that Dynamis' core expertise is in Earthquake Engineering.  There is no doubt that in a state like California, seismicity is an important factor to consider, and so the type of services that Dynamis can offer would be necessary and invaluable.